01/05/2010
Nature Can Be Everywhere
Laughter is an instant vacation.
Milton Berle (1908 - 2002), American comedian
Rusty Keeler, author of the popular Exchange book, Natural Playscapes: Creating Outdoor Play Environments for the Soul, addresses the questions of many who provide care in settings where nature is far removed...

"I know what you are thinking: You love natural playscapes. You dream of providing your children with the opportunities to play and discover the world of nature. But you just don't have the space. You don't have the right conditions. You don't have sunlight or you don't get enough rain. Don't let that stop you! Centers all over the world are looking at their outdoor spaces — big and small — and deciding to take the plunge and begin to add natural elements to their yards. It doesn't take the perfect piece of land or picture-perfect conditions to be able to make beautiful changes to your outdoor space. All it takes is some creativity and helping hands. You can do it."

In this article, "Small space made natural," in the November 2009 issue of Exchange, Rusty describes how a center in Portland, Oregon, introduced natural spaces into their urban center.


---
Exchange has a wide variety of resources on environments, which can be purchased separately on altogether at a discounted price in our
Environments Tool Kit
. Exchange environmental resources in the kit include...
Books
:
Caring Spaces, Learning Places: Children's Environments That Work
Natural Playscapes: Creating Outdoor Play Environments for the Soul
Learning With Nature Idea Book: Creating Nurturing Outdoor Spaces for Children
Beginning Workshop Units
:
Environments for Special Needs
Environments
Nature and Young Children
Outdoor Environments
Space
Science, Using the Outdoors
Learning Materials
---
Bring Reading to Life for Your Students
: PBS KIDS Raising Readers
Online Professional Development Courses:

-Preparing Preschoolers for Success
-Ready to Read and Write with Digital Media $129 each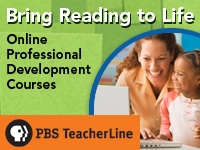 ---
Comply to Hand-Washing Codes with Award Winning Portable Sinks by Ozark River
. Self-contained with hot/cold water makes
Ozark River Portable Hand-Washing Stations
an affordable, versatile alternative to plumbing.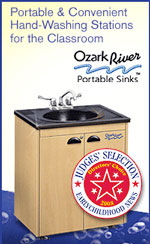 For more information about
Exchange's
magazine, books, and other products pertaining to ECE, go to
www.ccie.com
.
© 2005 Child Care Information Exchange - All Rights Reserved | Contact Us | Return to Site